St Mary's Candlemas Evensong, 29th January at 6:30pm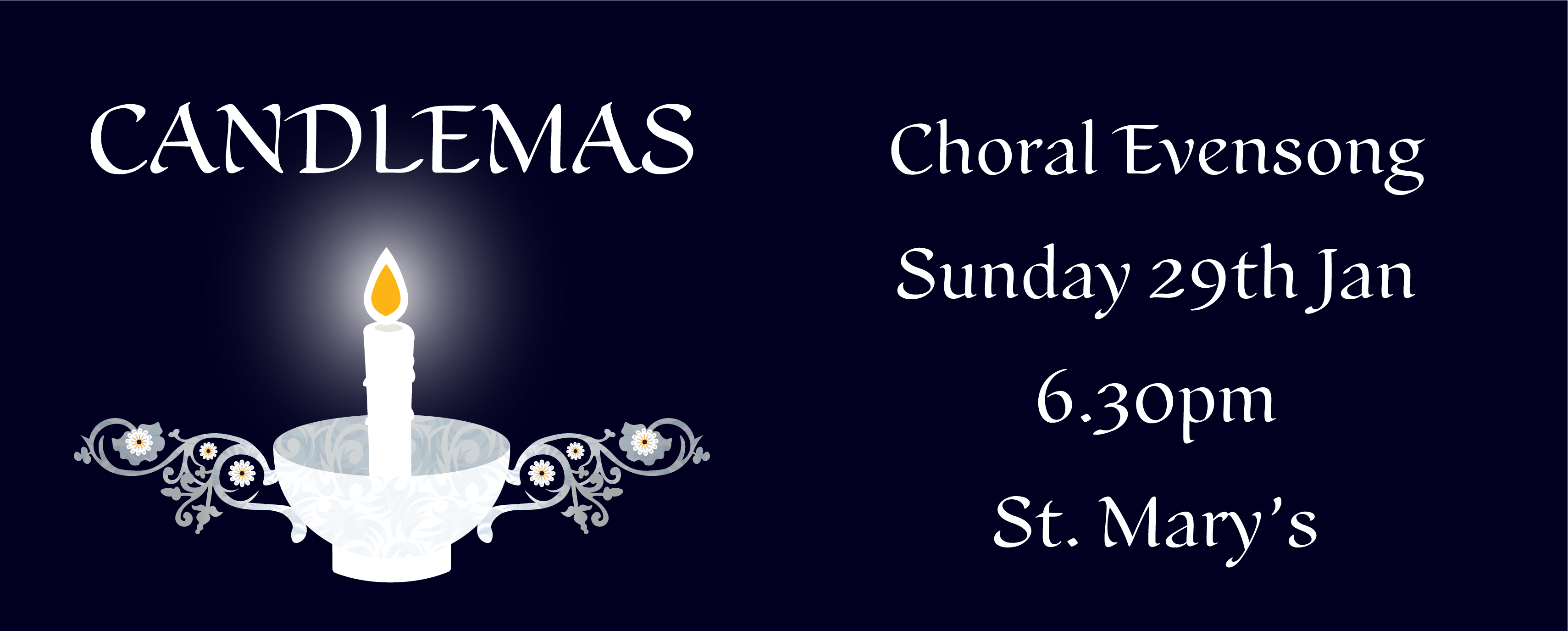 Regular Services (please scroll to the bottom of the page for exceptions/updates):
Our regular pattern of services is set out below.
Please note that, in relation to Covid-19, our arrangements with regard to hand sanitising, social distancing, mask wearing and congregational singing are under constant review.
Sundays:
8.00 am: Holy Communion (according to the Book of Common Prayer)
9.00 am: Breakfast Service (NB: 4th Sunday in the month only, also on Zoom)
11.00 am: Eucharist (Common Worship, Order 1) NB: 3rd Sunday in the month: All Age Worship. 
5th Sunday in the month:
Where there is a 5th Sunday in the month, the only service will be the 8.00 am BCP Holy Communion service (there will be no service at 11.00am).
Instead of the usual 11.00 am service, there will be a social event of some kind - details of which will be published in the Newsletter and given on noticeboards.
All age worship takes place on the 3rd Sunday of each month, in place of the usual Eucharist. This aims to be immediate, accessible, and interactive. The music tends to be modern rather than traditional, and the junior choir takes a full part in the proceedings. There is usually an activity of some sort that relates in some way to the theme of the service. 
The Breakfast Service is an informal, lay-led service that takes place on the 4th Sunday of every month, starting at 9am. Central to the service is the Gospel reading for the day that we read and discuss. This is followed by a short time of prayer and a relevant hymn, All are very welcome. If you wish to join by Zoom, please contact the Church Office to obtain the Zoom joining details: Contact us
Wednesdays:
11.00 am: Prayer Group - a time of prayer for the life of our church and wider community
Daily (Mon-Sat):
8.00 am: Morning Prayer (Common Worship, Daily Prayer)
5.00 pm: Evening Prayer (Common Worship, Daily Prayer) except Thursdays
Updates:
1st January (New Year's Day): the only service in the Benefice will be the 8.00 am Holy Communion (BCP) at St Mary's - all other services that day are cancelled.